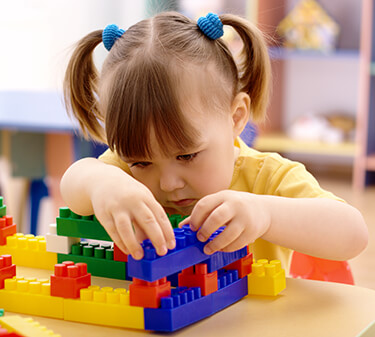 Curious Creators (Preschoolers ages three to four years) are so full of wonder. They spend their time imitating, observing and watching the world around them. They are interested in perfecting their motor skills at this age and will repeat tasks several times in order to master a particular skill, riding their favorite toy or sliding down the slide. They love to repeat activities and may do and undo actions such as putting a puzzle together. Conversations are a reality now with your little one, as they seem to have something to say about everything. You will begin to hear that common question "WHY" regarding everything in their world! They love making choices and being in control.
We capitalize on the fact that Curious Creators enjoy repetition and are curious to know the why's behind everything. We have prepared a schedule for the three-year old classroom that takes their attention span and natural curiosities into account. We have recognized that sequences are an important developmental step to later understandings of change and consistency.
We offer a curriculum that is diversified in math, science, language arts, social studies, music, fine and gross motor development, art, and social development. Assessment is on going and we work all year to achieve mastery of learning objectives identified in our curriculum. Daily reports are a quick means of communication about each child's day, but we begin to rely heavily on student communication with parents and a general board posting the daily goings on. Curious Creators quickly blossom into Sophisticated Scholars in the blink of an eye.