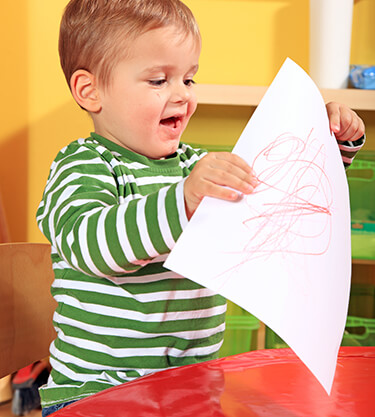 We refer to them as Distinguished Discoverers in our Two-year-old Program until they enter our Preschool Program.  "The world is me," says your two-year-old.  You will spend more time listening as your mature toddler shares all he/she experiences in the world.  So far, the world has been explored with eyes, mouth, hands, and legs.  Now is the time for exploration through thinking.
A two-year-old will spend more and more time on a specific task.  They love to help and are very independent.  Their favorite words are "Mine," and "No," and "I'll do it." A great deal of time is spent exploring, pulling, pushing, filling and dumping.   Our Distinguished Discoverers enjoy a variety of activities throughout their day.
We plan their day to include simple stories, rhymes and songs.  We communicate constantly to assist in the development of vocabulary and sentence structure.  We provide hands-on activities that include manipulation of a variety art medium, blocks and puzzles, making music and more.
The children are submersed in activities centered on four-week themes in areas that include math, science, language arts, social studies, music, fine and gross motor development, art, and social development.  We strategically plan activities that include large group, small group and individualized instruction.  And, yes, we assist with potty training when you and your child are ready.  Our Distinguished Discoverers smoothly transition into Curious Creators as a result of all of their experiences.